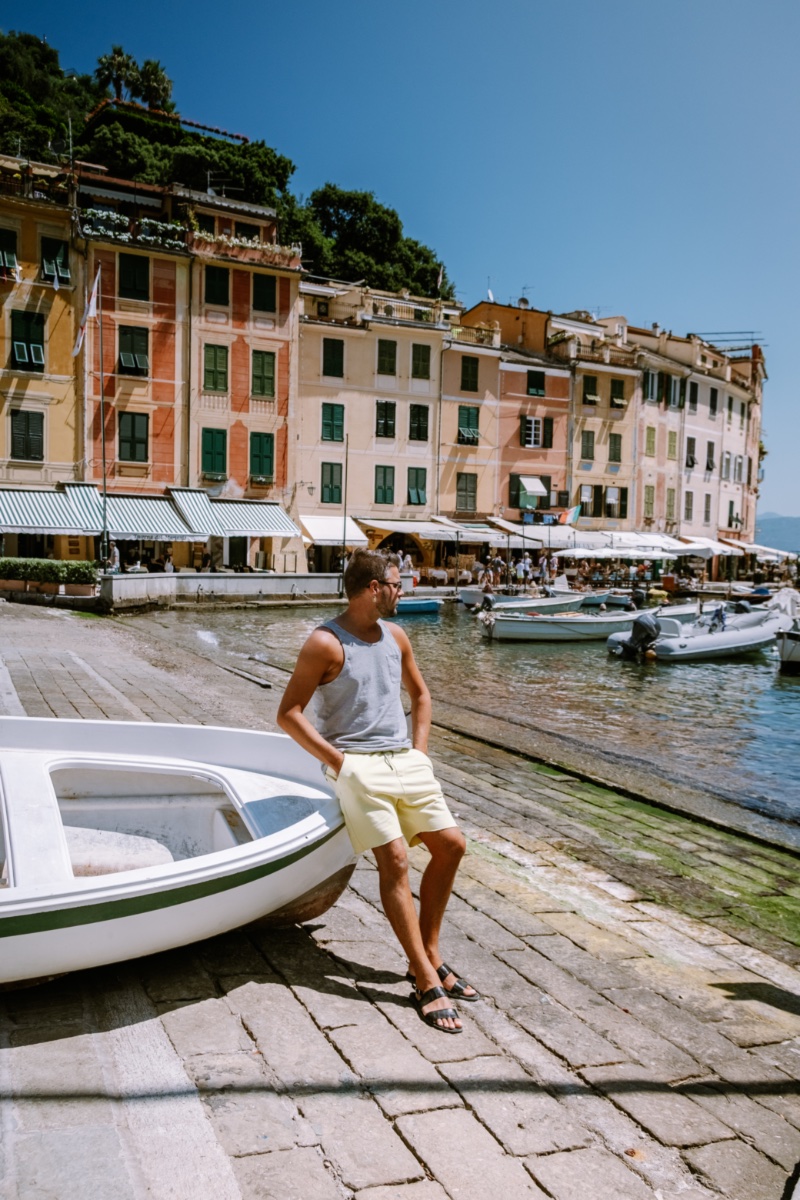 Experience the indulgent beauty of Italy on a luxurious adventure to three of the country's most coveted destinations: Portofino, Milan, and the Amalfi Coast. From glamorous fashion scenes to unparalleled natural wonders, these locations have captured the hearts of the world's elite.
Savor the richness of Italian cuisine, from sumptuous pasta dishes to decadent desserts, while enjoying Le Collectionist's luxury rentals in Italy. Immerse yourself in the fashion-forward city of Milan or soak up the natural beauty of the Amalfi Coast.
Glide through the crystal waters of Portofino on a private yacht, explore Milan's opulent retail destinations, and attend Milan Fashion Week. And on the legendary Amalfi Coast, cruising in a classic convertible and sipping cocktails at Franco's is the ultimate indulgence.
These destinations are a true haven of luxury, captivating the world's most discerning travelers. Pack your most stylish ensembles and join us on this Italian adventure—an experience sure to leave you breathless and longing for more.
1. Portofino
Nestled on the glistening shores of the Ligurian Sea lies the enchanting town of Portofino—a true haven of indulgence. Surrounded by verdant hills drenched in lush greenery, this gem of northern Italy has been a long-standing favorite among the European elite since the early 20th century.
Distinguished by its unparalleled natural allure, Portofino boasts an undeniable appeal that has stood the test of time. And to this day, it continues to reign as one of Europe's most coveted destinations, beckoning the most discerning travelers to bask in its unparalleled charm. A true sanctuary of luxury, Portofino is simply unmatched.
Explore the Italian Riviera in Style
As you step onto the luxurious marina of Portofino, a world of nautical wonder unfurls before you. While many opt for the ordinary, those who genuinely seek to elevate their luxury trip know nothing compares to a private yacht charter.
Imagine gliding through the crystalline waters, surrounded by the breathtaking beauty of the Italian Riviera. With each passing moment, you bask in the luxury of a truly remarkable journey.
And while you're at it, be sure to stop at the dazzling Cinque Terre—one of the most coveted destinations along this coastline. Because let's be honest, you only live once, and every moment spent in the lap of luxury is one to cherish. So why not indulge in the very best that Portofino has to offer?
A Supercar Tour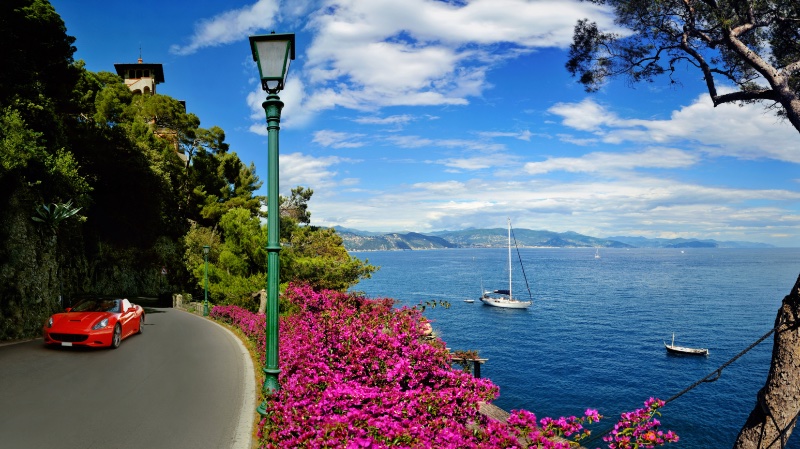 For those who adore the thrill of the open road, Portofino's winding coastal lanes are nothing short of a high-octane fantasy. And the festivities don't end there—throughout the year, several events offer the chance to embark on exhilarating excursions along the coastline.
With each engine rev, you'll experience the sheer joy of driving amidst the most breathtaking Italian landscapes. And for those who crave a taste of the French Riviera, some events even take you to Saint Tropez, Portofino's chic French counterpart.
So, let the wind whip through your hair as you cruise along these stunning coastal roads, the thrill of the journey propelling you ever forward. Because when it comes to luxury travel, there's nothing quite like the feeling of pure adrenaline coursing through your veins.
What to Wear
Fashion in Portofino is all about vibrancy, color, and fearless self-expression. So why not leave your inhibitions at the door and indulge in some daring sartorial choices? If you didn't pack accordingly, fret not—Portofino's myriad designer boutiques are sure to cater to your every fashion whim.
From funky prints to bold hues, this town is a treasure trove of fashion-forward finds. So, take a fashion risk—opt for that daring ensemble that ablaze your soul. After all, when it comes to fashion, there's no better time to channel your inner maverick than during a luxurious trip to Portofino.
2. Milan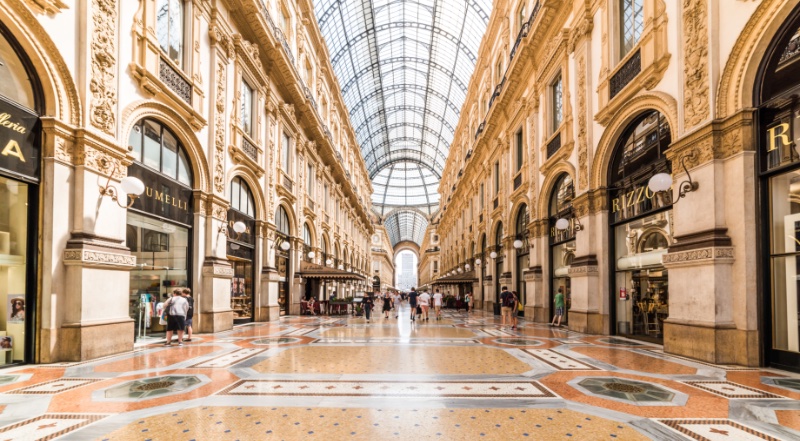 For those who live and breathe fashion, there's no destination like Milan. Boasting over 12,000 fashion firms, this city is a hub of creativity and innovation, playing host to some of the industry's most prominent players, such as Prada, Armani, and Versace.
So, if you're looking to explore a new city this year, look no further than the fashion mecca that is Milano. This vibrant metropolis is a treasure trove of sartorial inspiration, from sleek city streets to cutting-edge design boutiques.
Whether you're seeking to indulge in some high-end shopping or to immerse yourself in the city's rich artistic heritage, Milan is the ultimate destination for fashion-conscious travelers and design enthusiasts alike. So, pack your most stylish ensembles and prepare to experience a truly unique city.
Milan Fashion Week
For those in the know, there's nothing quite like Milan Fashion Week—a dazzling showcase of the latest designer fashions, where the crème de la crème of the fashion world come together to create and inspire.
If you're one of the lucky few who count themselves as a fashion insider or a VIP customer, this glamorous event is a must-attend. And, with shows taking place in both January and June, you can plan a Milanese excursion that aligns with your schedule and preferences.
From the front rows of the hottest shows to the bustling after-parties that carry on late into the night, Milan Fashion Week is a true fashion lover's dream. And with the chance to be amongst the first to create your wishlist for the upcoming season, the event offers a unique opportunity to stay ahead of the curve and experience the thrill of fashion at its finest.
So, pack your chicest ensembles and prepare to immerse yourself in the fashion event of the season. Because let's face it—there's no better place to see and be seen than Milan Fashion Week.
Luxury Shopping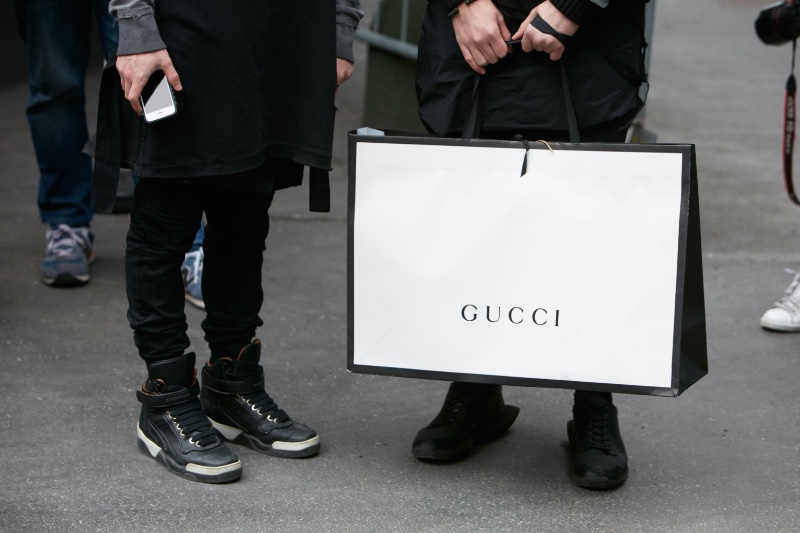 For the ultimate shopping excursion, look no further than Milan—a city renowned for its opulent retail destinations. And if you're a true fashion lover, two names must be added to your bucket list: Quadrilatero d'Oro and Galleria Vittorio Emanuele II.
The Quadrilatero d'Oro, or "Golden Rectangle," is an area of the city that boasts some of the most prestigious fashion houses and high-end boutiques in the world. You'll find everything from designer clothing and accessories to luxury jewelry and watches here.
And, of course, no shopping trip to Milan would be complete without a visit to the stunning Galleria Vittorio Emanuele II. This grand 19th-century arcade is nothing short of a fashion lover's paradise. Here, you'll find many high-end retailers and a selection of gourmet restaurants and cafes that offer the perfect break from your shopping extravaganza.
So, pack light—with such plentiful options, you won't leave Milan empty-handed. Indulge in a serious retail therapy session, and discover the unrivaled shopping scene that makes Milan an actual fashion capital.
What to Wear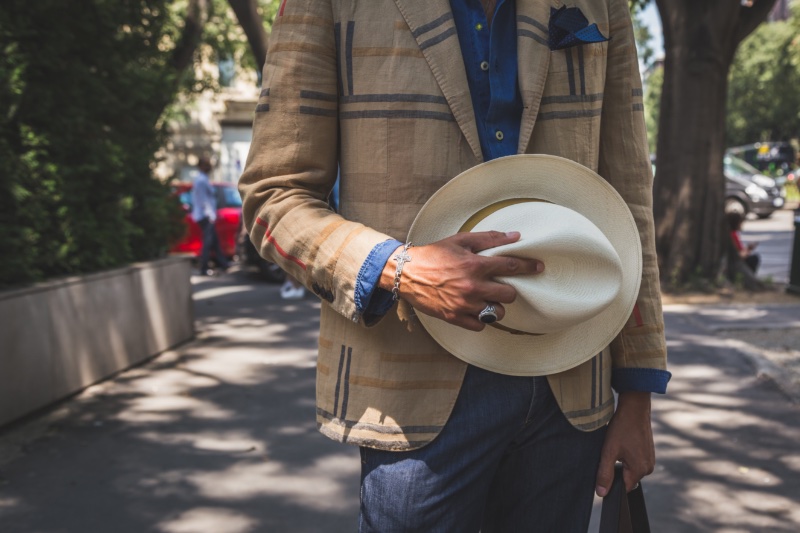 When it comes to fashion, there's nothing quite like the elegance of a perfectly tailored ensemble. And if you're seeking to make a sophisticated and unique statement, then the key is all in the accessories.
For a strong and daring look, try pairing a sleek, sharp outfit with a few outlandish accessories that will truly set your ensemble apart. From statement jewelry to bold footwear, it's about finding the perfect balance between classic elegance and bold self-expression.
So, channel your inner fashion peacock, and be original in your choices. After all, the bold and audacious genuinely make an impression in high fashion. And with an effortlessly chic and unapologetically authentic style, you'll fit right in with the glamorous fashion scene that defines Milan.
3. Amalfi Coast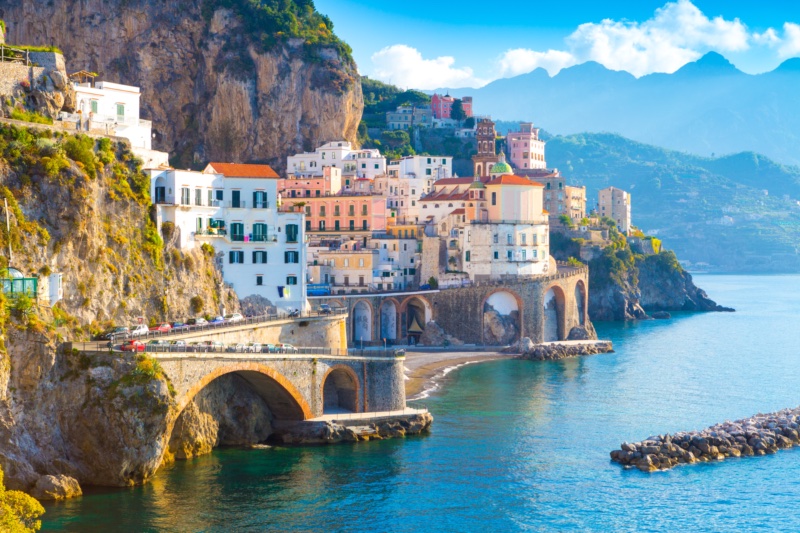 For a luxury trip to Italy that is truly unforgettable, look no further than the stunning Amalfi Coast—a stretch of coastline that has been captivating the world's elite for centuries. This area has epitomized glamour and style from the 18th century to the present day, beckoning the rich and famous to bask in its unparalleled beauty.
And during the 1940s and 1950s, it was a beloved playground of Hollywood's greatest stars, who were drawn to its timeless allure. With its breathtaking coastal landscapes, it's no wonder that the Amalfi Coast has become a sought-after destination for film productions.
After all, what better backdrop to a romantic storyline than the stunning vistas that this coast has to offer? So, if you're seeking something different that is on par with the world's best, look no further than the Amalfi Coast. It's a legendary haven of glamour and style that must be experienced to be believed.
Rent a Classic Car
For those who genuinely seek to immerse themselves in the glamour of the Amalfi Coast, there's nothing quite like exploring the coastline in a classic convertible. And with several car hire companies specializing in these vintage beauties, you can recreate the movie star lifestyle easily.
Yes, the coastline may only be 30 miles long, but every mile is brimming with unparalleled beauty and charm. From the cliff-hugging roads to the stunning vistas that stretch out to the horizon, the Amalfi Coast is truly a sight to behold.
And what better way to experience this iconic destination than in a vintage convertible that oozes classic style and elegance? With a trip that is equal parts luxurious and stylish, exploring the Amalfi Coast in a classic convertible is a simply unmatched experience. So, indulge in a little bit of retro-chic—after all, you're in the land of glamour and style.
Cocktails at Franco's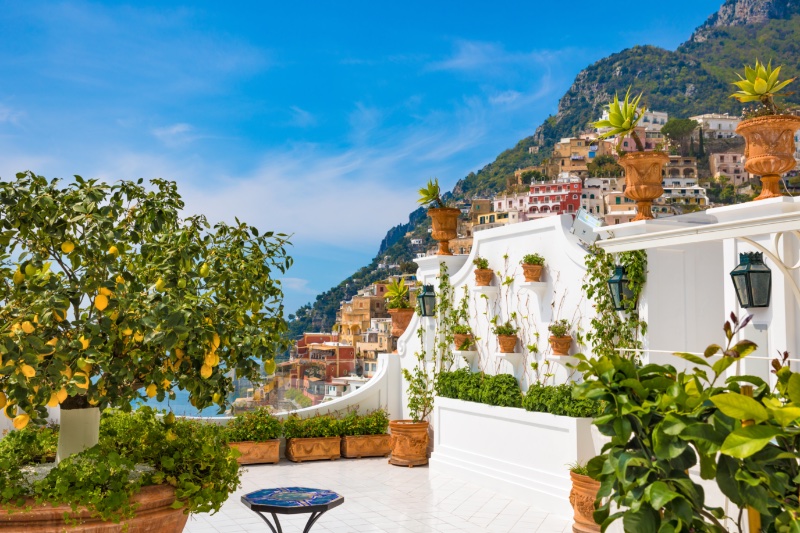 Nestled within the famed Le Sirenuse Hotel, Franco's is the ultimate destination for those seeking a taste of Positano's legendary glamour. Renowned as a meeting point for artists and celebrities, this bar is nothing short of a work of art.
Here, you can sip your favorite cocktail and watch the sun sink below the Mediterranean horizon, basking in the undeniable splendor of the Amalfi Coast. With its unparalleled ambiance and opulent décor, Franco's is a true reflection of the charm and sophistication that define this iconic destination.
And as you relax amidst the glittering crowds, you'll find yourself transported to a world of pure indulgence and bliss. After all, life is good at the Amalfi Coast—and at Franco's, you'll experience a taste of that luxury that is simply unrivaled. So, indulge in a cocktail or two, and let yourself be swept away by the sheer magic of Positano's most legendary bar.
What to Wear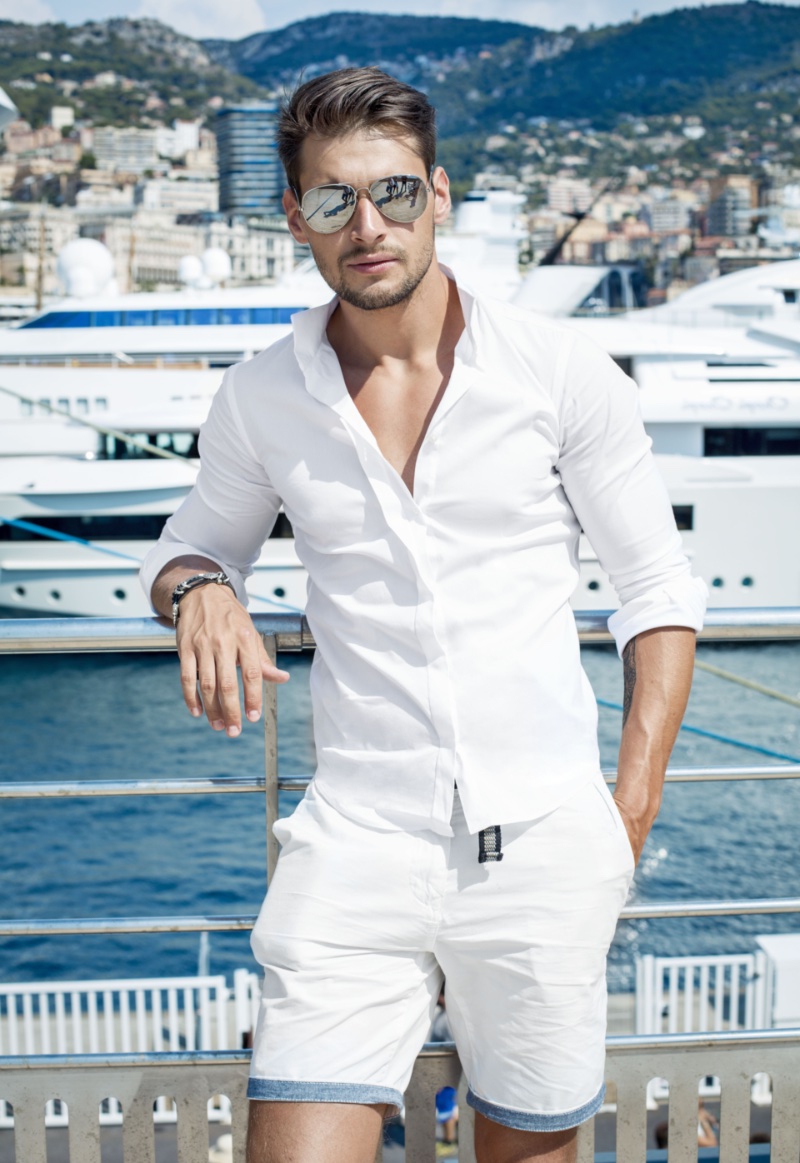 For those seeking to make a statement on the Amalfi Coast, it's all about channeling the effortlessly chic vibe that defines this glamorous destination. And when it comes to fashion, the key is all in the details.
To honestly look the part, opt for light and airy ensembles that reflect the carefree beauty of this stunning coastline. All-white outfits, linen suits, and statement hats are the perfect choices for a laidback and elegant style.
And as you wander the streets of Positano or cruise the coastline in a classic convertible, you'll exude a sense of style that is simply unmatched. So, embrace the carefree yet sophisticated spirit of the Amalfi Coast, and indulge in a wardrobe that is as effortlessly chic as it is timeless.
Final Words
Discover Italy's luxurious destinations where natural beauty meets high-end glamour. Portofino, Milan, and the Amalfi Coast are the hotspots of the global elite.
Portofino is a true luxury haven with unmatched natural allure. Charter a private yacht or embark on a supercar tour of the winding coastal lanes. Fashion in this town is vibrant, colorful, and fearless. In Milan, over 12,000 fashion firms await, and luxury shopping at Quadrilatero d'Oro and Galleria Vittorio Emanuele II is a must. Don't miss Milan Fashion Week for the ultimate fashion event.
The Amalfi Coast is a legendary haven of glamour and style that must be seen to be believed. Cruise the coast in a classic convertible, sip cocktails at Franco's and bask in the effortless chic that defines this glamorous destination. Pack your most stylish outfits and indulge in the ultimate luxury of Italy. These destinations epitomize luxury travel and will leave you yearning for more.