Picture a woman in a chainmail Paco Rabanne dress. The odds are she's someone legendary like Audrey Hepburn, Brigitte Bardot, Jane Birkin, or Françoise Hardy. Today, she's Elle Fanning, the brand's newest muse and the face of their just-launched fragrance, Fame. Fanning has worked her entire life, growing up with roles in movies like The Curious Case of Benjamin Button and starring in Maleficent alongside Angelina Jolie. Most recently, she wrapped season three of The Great, where she plays Russian Empress Catherine the Great.
Fanning is a natural fit for Fame. On a windy January day in New York, she's set up in the legendary Plaza Hotel, wearing a white rhinestoned Paco Rabanne dress, looking like she could appear on a red carpet or decide to get married in a lavish ceremony on a whim, if the mood struck her. The perfume is mish-mash of classic feminine scents–coconut, jasmine, mango–and spicier incense. She spoke with ELLE.com about her personal style evolution, being a tourist in Paris, and the power of a great fragrance.
Paco Rabanne's muses are iconic. You're in great company.
They are true icons. All of the Paco Rabanne women are so self-confident. I'm really proud to be in their company. It's just so cool. I'm nostalgic for a time that I never lived in.
Perfume is great for nostalgia.
Yeah, it brings you back to a memory. I think in high school I was the girl that bought the really candy floss perfume at the mall. I would wear the really sweet-smelling one. I guess we all went through that phase probably when we were teens.
Were you also drawn to Paco Rabanne because of the fashion?
For sure. You have to be confident to wear their clothes. They are really unique and it's almost like you put this stylish armor on. It's out of the box. It's not just your average outfit. It gives you the confidence to stand out from the crowd. And I was like that in school. We had a uniform in high school, but then on Fridays we would have free dress and we could wear whatever we wanted. I was always the girl that was wearing really outrageous things on Fridays. I was made fun of for that, but I knew it would pay off. I remember I wore this shirt that had Big Bird on it. It was Big Bird print. It was pink with the cartoon and it had ruffles and a collar, and I'd wear bell bottoms and wedged heels. Very '70s. A lot of high-wasted pants when low-rise skinny jeans was what everyone was wearing at the time.
Do you have a trick to feeling more confident?
In the morning when I'm going out, I spray on my fragrance and it gives you a little oomph to feel better and feel like you're complete and ready to take on the world. I don't feel confident all the time. I don't think any of us do. I love my Instagram. I put out what I want to on there and have fun with it, but of course you can get into a spiraling, the scrolling of comparing yourself. That would be my advice to young girls: Don't compare yourself to other people's curated images because you never know what's completely real and what's fake, especially because there's so many images out there. You have to remind yourself that it's not necessarily real and try not to compare yourself to others, even though I'm still learning that. All of us are.
Did I see you in a TikTok recently about who's going to get the drunkest in your group of friends?
Yes.
Did you win?
I won. It was on New Year's and my sister and I went out with our friends. We were just at a party and we were like, "Let's just do it. It's going to be funny." Everyone said I was going to get the drunkest, and I guess I lived up to that. I had a great night. Very fun.
What's your drink of choice?
I love a martini.
Dirty?
Yeah, a vodka martini dirty. Or a good margarita. I like tequila because I'm a California girl. We drink a lot of tequila.
Do you identify as a California girl? You're so Parisian in the Fame campaign.
I do feel quite European. I don't know why. I guess I spent a lot of time in Europe. I've always felt the love for Paris. I need someone to show me around a bit. I don't know it that well. I wish I wasn't so much of a tourist, but I always go to the Eiffel Tower, I get a crêpe. That is me. I do the cliché tourist things, the baguette and the stripes.
I feel like you're very known for being very feminine. Is that really you?
I was Princess Aurora, yeah. I definitely lean towards liking girly things. But I feel like I am a tomboy, too. I get down and dirty. I definitely get my hands dirty. I'm willing to go there. It's hard to place me sometimes. In the industry people love to put you in a box. I've tried with my career to pick things that are going to surprise people. I love the challenge of that, of turning femininity on its head a little bit. Everyone has so many different sides to them. I don't want to be put into a box.
Do you feel like people have a certain expectation when they meet you?
I'm sure, yeah. I've been working since I was two. I've been in the business for a really long time. So you still have to find, not the passion again, but just keep the creativity going within yourself and discovering new things. Even at this time, there's still so many things that I feel like I haven't done yet that I'd love to, and just continue to surprise people in that way. Because if you want to have a long career in this business, it's difficult. It's not easy to maintain that. I'm a very instinctual person, and if I just trust my gut, it normally leads me in the right direction with picking roles and who to work with.
You just wrapped season 3 of The Great. Can you tell us anything about the new season?
This season might be my favorite yet. I've seen pretty much all the episodes now because I'm a producer as well, so we get to look at the edit. I love doing this show so much and I'm so passionate about it and I love the character. It's so unique that you get to have a character that can do anything. The tone of the show really pushes the boundaries and we're constantly walking a tightrope between really dark tragedy and slapstick comedy at times. I know that it's a really special show, and I want to hold onto that. It's going to be sad when it's over. I know I'm going to be so upset. I'm preemptively missing it.
I feel like Catherine the Great would be a Paco Rabanne girl.
Because she thinks outside the box. She's a real go-getter. She's extremely strong. I think that she would love the fragrance. I was trying to think what would be in Catherine's fragrance? Vodka-infused something.
This interview has been lightly edited for content and length.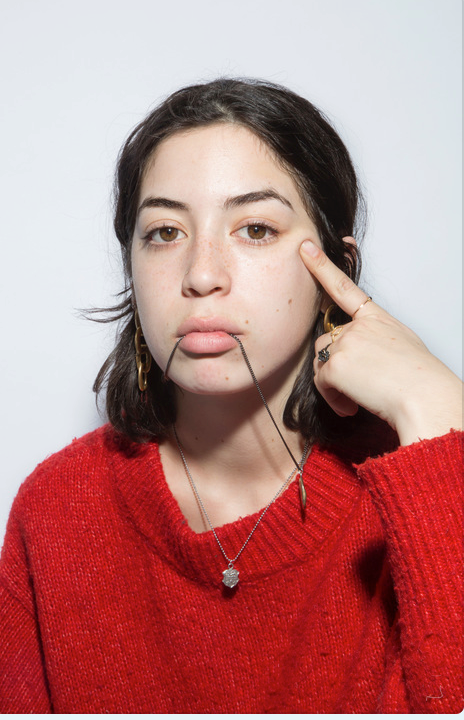 Beauty Commerce Writer
Tatjana Freund is a Beauty Commerce Writer, covering makeup, skincare, and haircare products and trends. She's a fan of vodka tonics and creepy Wikipedia pages.