It's officially Negroni Week. Now, we don't usually honor these seemingly made-up holidays (i.e. "National taco day"), but this isn't some random marketing scheme. For the last decade, restaurants and bars across the country (and around the world) have honored the classic cocktail while raising funds for various charities worldwide.
In fact, Negroni Week has grown from about just a few specialty bars to thousands of venues around the globe, and to date, the initiative has raised over $3 million for charitable organizations. That's something we can definitely get behind. Interestingly, it's a drink that's often associated with summer lounging. But that's probably due to its louche Italian origins. Aperitivo is, for all intents and purposes, Italy's take on happy hour. But it is also a state of mind—a sort of devil-may-care moment in the day when you slow down and appreciate the little things. The drinks are meant to be sipped, in preparation of a meal.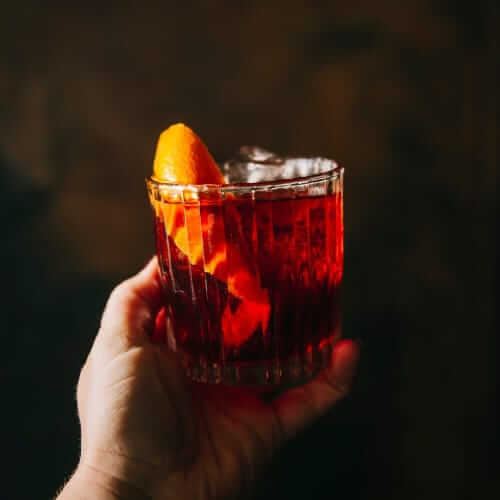 The Negroni has become the patron saint of the aperitivo. And also the drink of choice for stylish guys everywhere. "There is rarely such a thing as a bad Negroni, which may hold the key to its popularity," says the dapper Matt Hranek, who literally wrote the book about the cocktail and admits he currently has more photos of the ruby red drink on his phone than of his own family.
The nice thing about a potent sipper like a Negroni is that it's easy to make and just one will do you. Serve it like the Italians do, with a small snack like some mixed nuts or even a few plain potato chips (the saltiness balances the bitter, bracing flavors of the cocktail). "Generally, I do not deviate from ordering the standard recipe and have been known to give Negroni-making lessons to bartenders and flight attendants," says Hranek. "That being said, I do approve of some riffs—within moderation, of course."
And now's the time to experiment. Find a participating bar to try a fresh take on the tipple. "It's basically a pub crawl for a good cause with an Italian twist," says Helena Lombard, food and drinks expert at The Mixer. She says the 1:1:1 ratio of gin, vermouth and Campari makes it essentially foolproof, "but if a bitter-forward Negroni isn't your cup of tea, there are loads of other variations you can try that are just as simple and satisfying." We asked her for a few of her favorite riffs and here's what she suggests.